NELSON MANDELA TURNS 90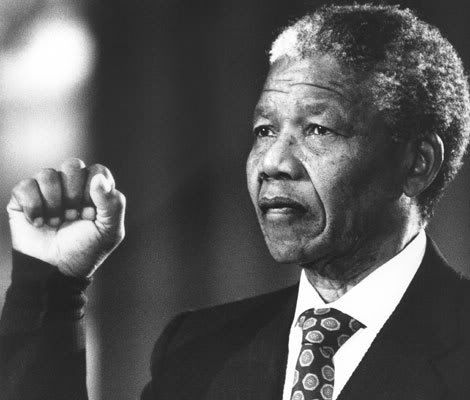 Probably on the top of my list as the greatest living mentor, role model, amazing human being, Nelson Mandela was honored for turning 90 at an event that can be labeled only as one for royalty.
Hosted by Will Smith, some of those in attendance of the concert/ birthday party included Amy Winehouse, Josh Groban, The Soweto Gospel Choir, and Spice Girl Geri Halliwell. Mandela hoped the attendance would equal 46,664 – a reference to the number he wore during the 27 years of imprisonment he endured in his fight against Apartheid.
46664 is now the name of the AIDS foundation Mandela has started. Proceeds from the birthday event will go towards this organization.
NIGERIAN LEADER CONTINUES ANTI-GAY TIRADE
Peter Akinola, leader of the Anglican Church in Nigeria, has spewed anti-gay rhetoric throughout his career. His comments this week at the Global Anglican Future Conference stating that he thinks the church is too lenient on homosexuality comes as no surprise. These comments just show us that his ignorance has sustained.
My heart does go out to those citizens of Nigeria that continue to live in an atmosphere where he is allowed to spread his message of blissful ignorance and I'd even say hatred.
HIV RAT
ES DECLING IN SOUTH AFRICA

Earlier this month, South Africa's health minister announced that for the second consecutive year HIV rates among pregnant women have declined. Manto Tshabalala-Msimang announced that in 2007 only 28% of women screened at prenatal clinics had the HIV virus (down from 29.2% the previous year).
In reviewing the larger population, overall 37.9% of women in South African are living with the HIV. This number is also down from the previous years number of 38.7%. This is a reflection of an overall trend in a decrease in infection rates.
Health Minister Msimang believes that the decrease could be the result of intensive prevention campaigns. However some experts believe that the decrease could be the result of a natural leveling off of the epidemic as infected people die.
MOST JAMAICANS OPPOSTE LGBT RIGHTS
What a surprise this is not. A poll this month in Jamaica found that 70% of Jamaicans are opposed to any type of civil rights for the LGBT community. According to the publication the
Jamaican Gleaner,
women are a bit more receptive to the plight of gays and lesbians in the country, but it goes on to state that the chance of overturning the country's anti-gay laws are very low.
The Gleaner does place much of the blame for the continued homophobic behavior on Jamaican musicians. Gays bashings are common and there has been a recent increase in the frequency of this violence. The Gleaner states that many participating in the violence are carrying out lyrics they hear by Reggae and dancehall artists.